Welcome to our website!
Thank you for taking the time to view our website. We hope that you find the necessary information that will be able to assist you.

We in Lowndes County are committed to our students, families, and communities served.

Join us as we build a strong foundation and

nurture successful learners.

We are under the leadership of Dr. Daniel Boyd, Superintendent, and the Lowndes County Board of Education.

FY 2014 Accountability Reports
In compliance with the accountability law, the following reports depicted below are available to the media, parent organizations, legislators, and the public. It is the desire of the Lowndes County Public Schools District to abide by the law.
B. School Safety and Discipline
---
A Well Deserved Honor
Mrs. Annie C. Hunter's has received an outstanding achievement of being inducted into the Southern Rural Black Women's Hall of Fame at the Troy University Rosa Parks Museum in Montgomery. SenatorSanders presented her with a resolution at the LCPS Board meeting on September 10th. CONGRATULATIONS!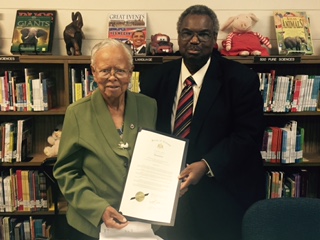 ---
School Board Members Recognized for Achievement
The Alabama Association of School Boards' School Board Member Academy recently recognized select school board members across the state for their achievement. The Academy provides ongoing training on important education, legal and governance issues for its members. To earn various awards, school board members attend academy conferences worth a specified number of instructional hours and partiipate in core curriculum courses. Awards are based on hours earned each academy year, which begins July 1 and ends June 30. Travis Rogers reached level 1 in the Academy. He was awarded a certificate of achievement during the Lowndes County Board of Education's October 8th meeting.
In addition, School board members, Annie C. Hunter and Steve Foster achieved level 4 or Master School Board Member in a previous year. They are congratulated for continuing to develop their boardmanship skills.
---
Employees of the Quarter Awarded
Student of the Quarter-Tatianya Jackson- The Calhoun
Parent of the Quarter- Ida Brown- Jackson-Steele Elementary
Volunteer of the Quarter-Sherita Wright- Jackson-Steele Elementary
Support Personnel of the Quarter- Natasha Simmons Hardy-Lowndes Middle
Teacher of the Quarter- Sheron Reed-Fort Deposit Elementary
Principal of the Quarter- Archie Curtis-Lowndes Middle
Administrator of the Quarter- Yvette Patterson-Central Office
---

National Cyber Securty Awareness Month-"We now live in a world that is more connected than ever before. The Internet touches almost all aspects of everyone's daily life, whether we realize it or not. Recognizing the importance of cybersecurity to our nation, President Obama designated October as National Cyber Security Awareness Month. National Cyber Security Awareness Month is designed to engage and educate public and private sector partners through events and initiatives with the goal of raising awareness about cybersecurity and increasing the resiliency of the nation in the event of a cyber incident."
Whether you are an employer, a teacher, a government worker, or even a student, you have an impact on cybersecurity. By practicing strong and safe online habits, you can better protect your identity and the networks you use at home, at work and anywhere you log on. Click on the link above to learn more about "STOP.THINK. CONNECT.
---
A SUCCESS!
Superintendent Boyd, along with SABIC representatives prepare to give out bookbags to students!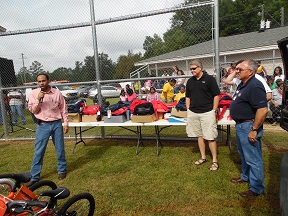 More pictures
---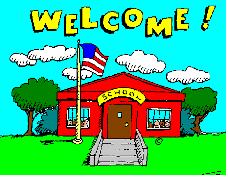 BACK TO SCHOOL!
Parents and students, we are so excited to welcome you back to the 2015-2016 school year! We look forward to another successful school year. Please remember that a student's success is related to his/her coming to school every day. School starts each day at 7:30 a.m. Don't forget to check the calendar for each schools' open house (click here). Thank you for your support of Lowndes County Public Schools.
EMPLOYEES OF THE YEAR! (Click here for more)
CONGRATULATIONS RETIIREES-2015 (All from Fort Deposit Elementary School)
Melanie Sharpless- 35 years of service
Christine Felder- 25 years of service
Alesa Ryals- 35 years of service (Not Pictured)
Thank you for your many years of support of the students of LCPS!
PARTNER-IN-EDUCATION OF THE YEAR

Sheriff John Williams
---
A former Calhoun graduate to complete Internship (Read More)
---
WHO SHOULD BE THE WAKA's GOLDEN APPLE TEACHER OF THE YEAR? (Read More)
Mrs. Gwendolyn Cosby, Math Teacher at Central High School, is the winner! Thanks to all who took the time to cast your vote. On behalf of the superintendent, Dr. Boyd and the Lowndes County Board of Education Members, Mrs. Gwendolyn Cosby, Lowndes County Public Schools is proud to have you. Congratulations for a job Well Done! (Read More)

The Lowndes County Career & Technical Education has a new and innovative Welding Program
This new career pathway began as a result of an awardance of a $207,000 grant. This program began in January at The Calhoun School and will be implemented in the Fall at Central High School. Dr. Lorenza Smith, Career Tech Administrator indicated that the implementation of this new program has allowed LCPS to strenghten its articulation agreement/partnership with Wallace Community College, Selma, which will provide an instructor for each semester including the summer. This dual enrollment agreement will help students attain college credit while attending high school. (More Pictures)
Dr. Boyd meeting with parents and students
_____________________________________________________
PARENTS SHOULD ENCOURAGE THEIR CHILDREN TO COME TO SCHOOL EVERYDAY.
There's no better time than the beginning of the school year to encourage students to be in school on time, every day. Last September, there were 604,312 recorded absences in our state. For the entire 2013-14 school year, there were 7,024,152 absences, equal to more than 49 million hours of missed instruction and learning.
Poor attendance can start as early as kindergarten and continue to affect achievement through high school. Chronic absenteeism is missing 10% (18 to 20 days) or more of school for any reason. Research indicates that attendance is a major indicator for students eventually dropping out of school.
Therefore, September has been proclaimed "Alabama Attendance Awareness Month" in support of a national campaign to increase the understanding for educators, parents, students, and community partners of the major impact school attendance has on the successful rates, both academically and behaviorally, of our students.
---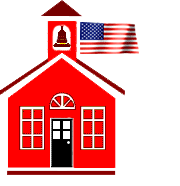 The Lowndes County Board of Education has approved the school calendar for the upcoming school year. Students First day of School- Monday, August 10, 2015. Click here
---