Welcome to our website!
Thank you for taking the time to view our website. We hope that you find the necessary information that will be able to assist you.

We in Lowndes County are committed to our students, families, and communities served.

Join us as we build a strong foundation and

nurture successful learners.

We are under the leadership of Dr. Daniel Boyd, Superintendent, and the Lowndes County Board of Education
---
LCPS SPELLING BEE (more)
---
The month of January is designated as School Board Recognition. On Thursday, January 12, 2017, LCPS will honor its five board members at Lowndes County Middle School during the regular meeting at 7:00 p.m. Please come out and show your appreciation for our board members.
---
DR. BOYD AND THE CENTRAL OFFICE STAFF
---
LOWNDES COUNTY BOARD OF EDUCATION WELCOMES ITS NEWEST BOARD MEMBER
Mr. Donald Carter
---
WAKA GOLDEN APPLE AWARD WINNER: Mrs. Ronda Daniel (more)
An Enormous Thanks for Twenty-two years of Service, Dedication, and Loyalty- Mrs. Annie C. Hunter
Mrs. Annie C. Hunter has been a member of the Lowndes County Board of Education for 22 years, and last evening, October 13, 2016, was her final meeting (more).
---
LCPS QUARTERLY RECOGNITION PROGRAM (here)
---
BACK TO SCHOOL RALLY!
Our annual Back to School Rally took place on Saturday, August 20, 2016 at Russell Field from 9:00 a.m. to 11:00 a.m. (Click here for pictures)
Thanks to all employees for your continuous support and a special thank you to SABIC employees for their generous donation of additonal bookbags for our students, and other vendors who supported us during this event.
---
School Starts Thursday, August 4, 2016 at 7:30 p.m. Click here for the Adopted 2016-2017 Scholastic Calendar
---
PARENTS SHOULD ENCOURAGE THEIR CHILDREN TO COME TO SCHOOL EVERYDAY.
There's no better time than the beginning of the school year to encourage students to be in school on time, every day. Last September, there were 604,312 recorded absences in our state. For the entire 2013-14 school year, there were 7,024,152 absences, equal to more than 49 million hours of missed instruction and learning.
Poor attendance can start as early as kindergarten and continue to affect achievement through high school. Chronic absenteeism is missing 10% (18 to 20 days) or more of school for any reason. Research indicates that attendance is a major indicator for students eventually dropping out of school.
Therefore, September has been proclaimed "Alabama Attendance Awareness Month" in support of a national campaign to increase the understanding for educators, parents, students, and community partners of the major impact school attendance has on the successful rates, both academically and behaviorally, of our students.
---
Summer Bridge 2016 and Summer School Credit Recovery (more information)
---
The Annual GALA Banquet is held to recognize and honor individuals who have made significant contributions to the school sytem during the 2015-2016 school year. The event was held on Tuesday, May 17, 2016 at 6:00 p.m. at Central High School. In addition, partnering with the Lowndes County Education Association, tribute was also paid to a special group of individuals retiring at the end of the school year. Lowndes County Board of Education and the school system are extremely grateful for their exemplary service, commitment, and dedication to LCPS.
Mrs. Nellie Caldwell-10 Years
Ms. Mary Davis- 25 Years
Mr. Frank Genard-4 Years
Mrs. Linda Hamilton-10 Years
Mr. Jim Hunter, Jr. 30 Years
Mrs. Audrey Jackson-21 Years
Mrs. Aurelia Jones-23 Years
Mrs. Christine McBride-25 Years
Mrs. Rosie McMeans-21 Years
Mr. Thomas McReynolds-24 Years
Mr. Thaneal McWilliams-24 Years
Mrs. Renae Shelby- 26 Years
---
Myaira Coleman-Student of the Year (Central High School)
Kantanga Mants-Parent of the Year (Central High School)
Cynthia Moorer-Volenteer of the Year (Jackson-Steele Elementary)
Henry Saffold-Support Personnel of the Year (The Calhoun School)
Sheron Reid-Teacher of the Year (Fort Deposit Elementary)
Keith Scissum-Principal of the Year (Hayneville Middle School)
Archie Curtis-Prinicpal of the Year (Lowndes Middle School)
Stacy Williams-Administrator of the Year (Central Office)
Click here for more from the GALA
---
CONGRATULATIONS TO CENTRAL ELEMENTARY AND CENTRAL HIGH SCHOOL! (click here for more)
---
BOARD MEMBERS APPRECIATION
January is School Board Recognition Month—a great time to focus on the crucial role an elected board of trustees plays in our communities and schools, and on Thursday, January 14th, LCPS honored it board members. Click here for more.
---
Data Governance
Protecting our students' and staffs' privacy is an important priority of the Board of Education and the Lowndes County Public Schools (LCPS), are committed to maintaining a strong and meaningful privacy and security protections. The privacy and security of this information is a significant responsibility, and we value the trust of our students, parents, and staff. The Lowndes County Public Schools Data Governance document includes information regarding the Data Governance Committee, the actual Lowndes County Public Schools Data and Information Governance and Use Policy, applicable Appendices, and Supplemental Resources.
The policy formally outlines how operational activity shall be carried out to ensure Lowndes County Public Schools' data is accurate, accessible, consistent, and protected. The document establishes who is responsible for information under various circumstances and specifies what procedures shall be used to manage and protect it. The Lowndes County Public Schools Data Governance Policy shall be a living document. All modifications shall be posted on the Lowndes County Public Schools website. To access the Data Governance document, click here.
---
A Well Deserved Honor
Mrs. Annie C. Hunter's has received an outstanding achievement of being inducted into the Southern Rural Black Women's Hall of Fame at the Troy University Rosa Parks Museum in Montgomery. SenatorSanders presented her with a resolution at the LCPS Board meeting on September 10th. CONGRATULATIONS!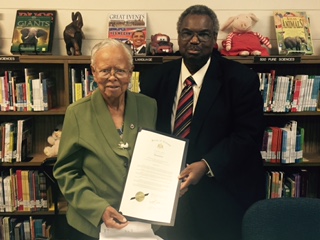 ---
School Board Members Recognized for Achievement
The Alabama Association of School Boards' School Board Member Academy recently recognized select school board members across the state for their achievement. The Academy provides ongoing training on important education, legal and governance issues for its members. To earn various awards, school board members attend academy conferences worth a specified number of instructional hours and participate in core curriculum courses. Awards are based on hours earned each academy year, which begins July 1 and ends June 30. Travis Rogers reached level 1 in the Academy. He was awarded a certificate of achievement during the Lowndes County Board of Education's October 8th meeting.
In addition, School board members, Annie C. Hunter and Steve Foster achieved level 4 or Master School Board Member in a previous year. They are congratulated for continuing to develop their boardmanship skills.